Guide
Inquiries

Guest House & ID Card Management:IT & Facility Team (042-717-5773)
How to download form

http://nims.re.kr→NIMS Introduction→ Facility Information→Guest House→Download Application
Download Application


Flow Chart for Work Procedure
Applying for Admission

- Regarding usage inquiry for Guest House, contact IT & Facility Team (042-717-5773) or the Host Research Team at least 1 week before entry.
- Key and ID cards are issued by IT & Facility Team (042-717-5773) or the host research team.
Applying for Departure

When checking out, lock door and return Key, ID Card to IT & Facility Team (042-717-5773) or Host Research Team.
Guest House Operation Status
Humoa General Status
Number of Rooms: 6
Studio
Rental 250,000(Month) / 25,000(Day)
Humoa Facilities
Room(1), Toilet(1), Air Conditioning(wall-mounted air conditioner), Broadcasting Facilities(TV), Home Appliances(washing machine, refrigerator), kitchen/bathroom(induction, sink, bathroom), security(intercom, card key)
Furniture: Wardrobe, Single Bed(1), Desk/Chair(1), Shoe Cabinet
Nearby Convenience Facilities: Expo Mart, Hospital, Munji Elementary School
Humoa Internal/External Status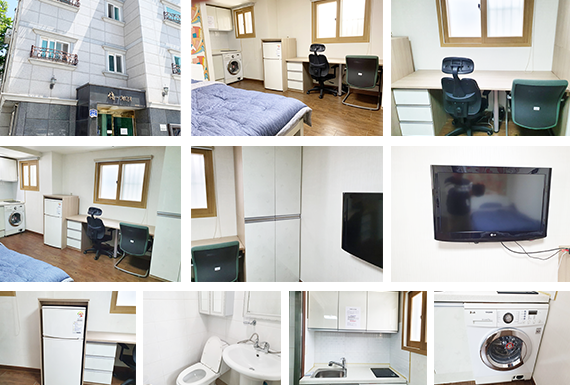 User Notes
Common
The use of fire-generating appliances (hot air balloons, induction, etc.) and storage of inflammable materials (oil, gas, etc.) are prohibited inside the accommodation.
Do not use it for any purpose other than the purpose of the guest house.
Observe other public life order maintenance.
Directions
Address
Humoa, 338-17 Jeonmin-dong, Yuseong-gu, Daejeon
Map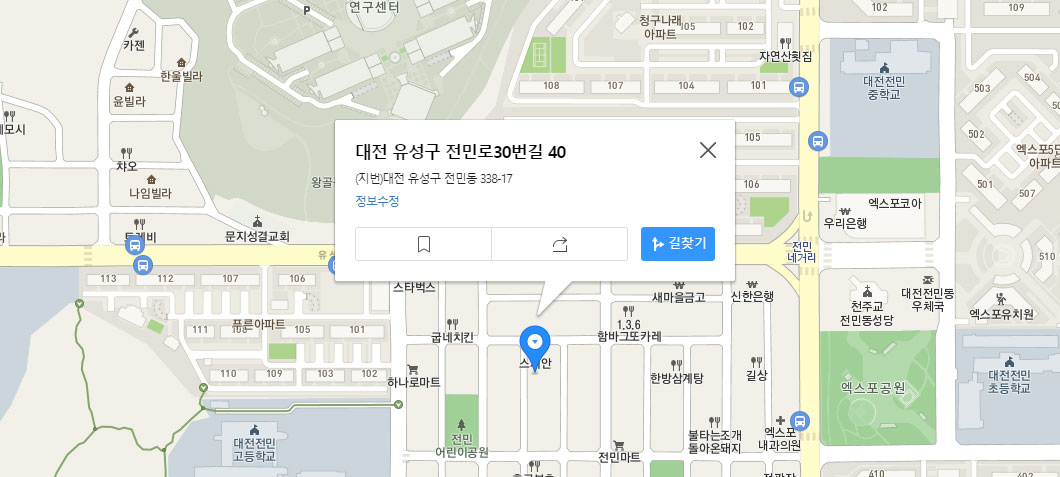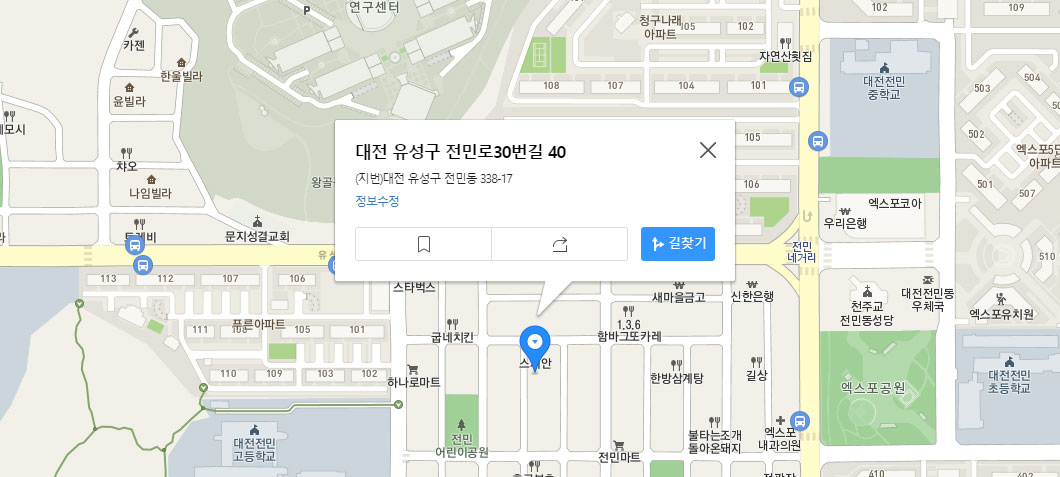 Directions by public transportation
Bus(No.705)

Government Complex Daejeon West Gate → Jeonmin-dong Community Center Distance 7.69km (via 8 bus stops, 36 minutes including walking)
Train(Daejeon Station)

Take bus #802 (every 17 minutes) bound for Jeonmin-dong at Daejeon Station → Get off at the Expo Apartment stop after passing through 23 stops → Transfer to Bus No. 121 or 918 → After passing through the 2nd stop, get off at the Jeonmin-dong Community Center stop → 3 minutes on foot * By taxi: about 30 minutes (fare about 10,000 won)
Bus from the complex terminal

Daejeon Express Bus Terminal/Dongbu Intercity Bus Terminal (Bus) Take Bus 802 (every 17 minutes) bound for Jeonmin-dong at the scheduled stop for the complex terminal → After passing through the 14th stop, get off at the Expo Apartment stop → Transfer to the Bus No.121 or 918 → 2nd stop After passing through, get off at Jeonmin-dong Community Service Bus Stop → 3 minutes on foot * By taxi: about 25 minutes (fare about 8,000 won)
Public Facilities
Jeonmin-dong Community Service Center (042-601-6800)
Jeonmin-dong Post Office (042-862-2004)
Daedeok Special District Athletic Park Sports Center (042-865-2200~1, http://www.diwc.or.kr/)