Development of mathematical model for the diagnosis and
treatment of cardiovascular disease
Development of a hybrid mathematical model composed of multilevel models to better reconstruct the complex dynamic systems of the cardiovascular system Development of models of atherosclerosis, heart diseases, and hypertension that can be used to elucidate pathophysiology and contribute to early detection technologies Engineering of disease models customized to individual patients
Research
In order to successfully recreate the cardiovascular system in virtual space, many multilevel models must be integrated into a single model. This complexity makes hemodynamic models a valuable resource in understanding the physiology of the cardiovascular system.
Hemodynamic system models are a promising tool to be utilized, among many purposes, in the development of diagnostic aid systems, telemedicine, and trials for novel drugs and artificial organs.
Expected effect
Development of a hybrid mathematical model composed of multiple multilevel models to better represent the complex dynamic systems of the cardiovascular system. The expected results are as follows.
The models developed during this research will serve as an example to stimulate the development of the as-of-yet domestically inactive field of hemodynamic modeling.
Enhance diagnostic systems and make a positive contribution to public health by enhancing early detection rates.
Will stimulate the advancement of medical device technology, including innovations in medical imaging devices, and the creation of more reliable artificial organ replacements.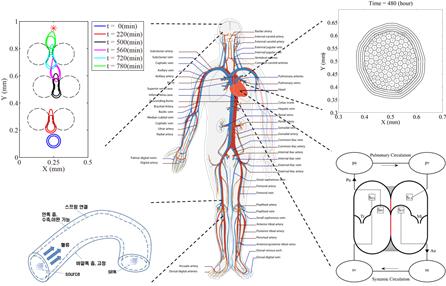 Division of Mathematical Models

Lee, Wanho
Tel. +82-42-717-5739