Inauguration of National Institute for Mathematical Sciences (NIMS) fourth president, Hyungju Park.
– Innovation for the real world problems via mathematics,
Devotion for making creative ecosystem of industrial mathematics -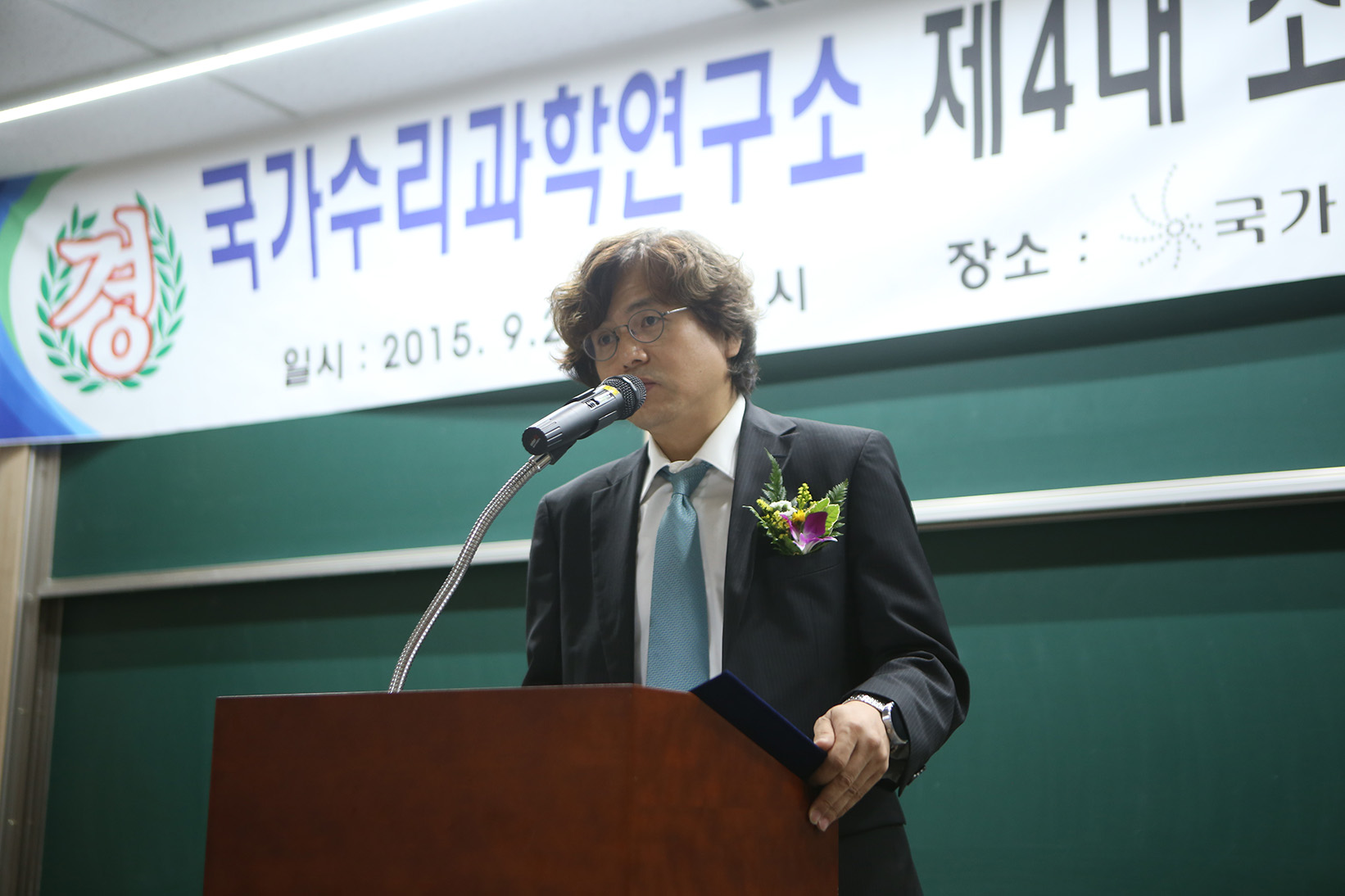 On September 21, 2015, the inauguration ceremony of Hyungju Park (Chair Professor, Ajou University) as the fourth president of NIMS was held at the auditorium of NIMS, Daejeon, South Korea.
At the ceremony, more than one hundred people attended including Doochul Kim (President of Institute for Basic Sciences (IBS)), Myung Hee Jung (Auditor of IBS), Yong Hoon Lee (President of Korean Mathematical Society (KMS)) and Hyung-Chun Lee (President of Korean Society for Industrial and Applied Mathematics (KSIAM)).
Hyungju Park received his physics bachelor's degree at Seoul National University and Mathematics PhD at University of California, Berkeley. He served as a professor at Oakland University, Korean Institute for Advanced Study (KIAS), and Pohang University of Science and Technology (POSTECH). He is an internationally renowned leader in his field and a Chair Professor at Ajou University, Suwon, South Korea.
Specifically, he successfully organized International Congress of Mathematicians (ICM) 2014 Seoul as the chairman of the organizing committee. Afterwards he became the first Korean member of the executive committee of International Mathematical Union (IMU).
At the ceremony, Hyungju Park said that NIMS has to improve its competence dramatically in terms of mathematical research and education. He also pointed out that many real world problems can be modelled as mathematical problems; various fields of pure mathematics are need to solve such mathematical problems. Therefore, NIMS should be in core to build strong mathematical expertise and idea exchange infrastructure; NIMS shall lead to build an industrial mathematics ecosystem.



Doochul Kim, the President of IBS, mentioned that he expects the new president Hyungju Park will strengthen mathematical research which is foundation of basic sciences research and rebuild a reputation to become a research hub. Yong Hoon Lee, The President of KMS, added that NIMS will be one of the most renowned research institutes in mathematics in the world within ten years and the Korean mathematics community strongly supports the new president Hyungju Park. Lastly, Hyung-Chun Lee, the President of KSIAM, congratulated that and said that the proven leadership of Hyungju Park who leaded 2014 ICM meeting sucessfully, and his international network will lead the institute to achieve a great success in developing industrial mathematics in Korea.
His three-year presidency starts on September 18, 2015 and ends on September 17, 2018.